A la hora de realizar auditorias web o de la parte pública de una empresa, es muy común utilizar herramientas de terceros para ayudarnos en la búsqueda de información pública del alcance acordado. En ocasiones dependemos de estar en un sistema operativo Linux para utilizar estas herramientas o simplemente las desconocemos.
Es por ello que hoy os traemos un listado de extensiones para firefox y chrome que consideramos imprescindibles a la hora de empezar una auditoría. Otra ventaja de utilizar estas aplicaciones es que las vamos a tener siempre a nuestra disposición únicamente iniciando sesión en el un dispositivo que queramos.
WAPPALYZER
La primera extensión que se me vino a la cabeza al pensar en este post es Wappalyzer, esta extensión analiza el código fuente de la página que hemos visitado para detectar que tecnología se está utilizando. Es capaz de detectar CMS, tiendas web, frameworks de JavaScripts, herramientas de análisis y mucho más. Ademas, si es posible nos dará la version instalada lo que nos puede ayudar a encontrar vulnerabilidades asociadas a la versión.
Además, podemos bajar los resultados en formato CSV para poder tratarlos de manera automatizada.
FoxyProxy es un complemento de los navegadores web Firefox, Chrome o Internet explorer que sirve para facilitar y agilizar la configuración de proxies y VPN. En otras palabras, si quieres interceptar las peticiones que realiza tu navegador web mientras navegas, te recomendamos que utilices esta aplicación para hacer de puente entre el navegador y burp.
 Su configuración para funcionar con burp es muy fácil, solo tienes que crear un nuevo proxy en opciones y poner localhost como host y como puerto el que quieras (8080 por defecto)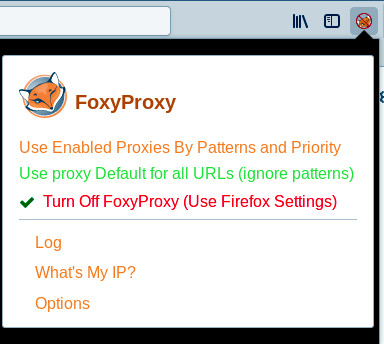 IP Address and Domain Information
La extensión IP Address and Domain Information muestra información detallada sobre el sitio web actual. La información se puede utilizar con fines de investigación en línea y SEO.
Entre la información que muestra se encuentra: 
Direccion IPv4 e IPv6 de la web, ubicación, DNS, datos whois, enrutamiento, vecinos de dominio, listas negras e información de ASN, información de los registros MX, AAAA o SPF, información del proveedor y mucho más.
El equipo de hunter.io ha desarrollado esta aplicacion para no tener que acceder a su pagina web cuando queremos obtener correos electrónicos de la web en la que estamos navegando.
Mediante su extensión, vamos a poder encontrar correos electrónicos del dominio que estamos visitando y que están expuestos en internet así como obtener el patrón de creación que usan para los mismos. Cuando la extensión encuentra una coincidencia, se nos muestra la URL en la cual se ha encontrado para que podamos validar el correo manualmente.
La extensión de Shodan muestra información del sitio web como por ejemplo su ubicación o quién es el propietario de la IP. Sin embargo, su característica principal es que muestra que puertos de la dirección IP se encuentran abiertos sin necesidad de realizar un escaneo activo.
Esta información es recopilada por shodan a través de escaneos periódicos que realiza por todo internet. El complemento de Shodan verifica automáticamente si Shodan tiene alguna información para el sitio web actual y la mostrará a través del plugin.